31

March
Uncategorized
The Ultimate Guide to Wedding Car Rental: Everything You Need to Know About Fizaah Group's Services
Introduction:
When it comes to planning a wedding, every detail matters, from the dress to the venue to the transportation. Arriving in style is an essential part of every wedding, and one of the best ways to do it is by renting a luxury car. Fizaah Group is one of the leading car rental services in the market, and in this guide, we will explore everything you need to know about their wedding car rental services.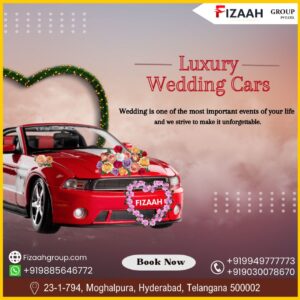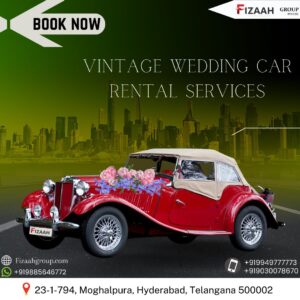 Why Choose Fizaah Group for Wedding Car Rental?
Fizaah Group offers a range of luxury cars for weddings, including sedans, SUVs, limousines, and vintage cars. Their cars are well-maintained and in excellent condition, ensuring a smooth ride and a comfortable experience for the bride, groom, and their guests.
Another reason to choose Fizaah Group is their customer service. Their staff is friendly, professional, and always ready to help with any queries or concerns. They also offer flexible rental packages that cater to different budgets and requirements.
1. Fizaah Group offers several wedding car rental packages, including:
2. Basic Package: This package includes a luxury car, a professional driver, and basic decorations.
3. Premium Package: This package includes a luxury car, a professional driver, and premium decorations, such as flower arrangements, ribbons, and balloons.
4. Elite Package: This package includes a luxury car, a professional driver, and elite decorations, such as personalized flower arrangements, customized ribbons, and champagne.
5. Custom Package: Fizaah Group also offers customized rental packages that cater to specific requirements and preferences.
Factors to Consider When Choosing a Wedding Car
Before choosing a wedding car, there are several factors you need to consider:
1. Style: The car should complement the overall theme and style of the wedding.
2. Capacity: The car should be spacious enough to accommodate the bride's dress and the groom's suit, as well as any additional passengers.
3. Comfort: The car should be comfortable, especially if it's a long drive.
4. Availability: The car should be available on the wedding day, and the rental process should be hassle-free.
Conclusion:
Renting a luxury car for your wedding is a great way to make a grand entrance and create unforgettable memories. Fizaah Group's wedding car rental services offer a range of options that cater to different styles, budgets, and preferences. With their well-maintained cars, professional drivers, and exceptional customer service, Fizaah Group is a reliable and trusted choice for your wedding transportation needs.